Energy and Built Environment, an international journal, won the "Newcomer Award"
Energy and Built Environment, an international journal, won the "Newcomer Award"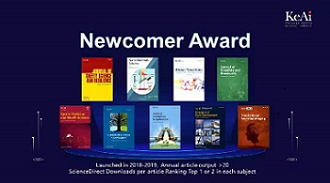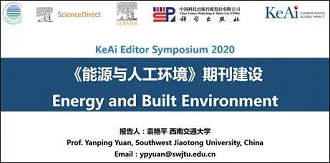 sdsdsdsdsd EBE won the "Newcomer Award" asdasdasdasdsadasdasdasdsdsdasdProfessor Yuan's speech
On 15th December 2020, the International Journal of Energy and Built Environment (EBE) granted the "Newcomer Award" in the "2020 KeAi Editorial Symposium", organized by Beijing KeAi Senlan Culture Communication Co., Ltd. at China Science Publishing & Media Ltd. (CSPM).
Professor Yanping Yuan, the Editor-in-chief of EBE journal, was invited to give a special speech on the journal development.
Responding to the "give priority to layout in the field of energy and environment to serve the strategic needs of the country's innovative development" in the "Opinions of the Four Ministries and Commissions on Cultivating First-class Journals", EBE journal was officially launched in January 2020, adopting a quarterly model, with 40 articles published annually. The EBE journal is committed to construct a world-class English journal in the field of energy and built environment.
In 2020, the EBE journal received a total of 123 articles from 30 countries, of which 63.4% were from overseas. 5 issues were officially published, containing 50 original papers; 92 papers were published online. The maximum downloads in a single issue was more than 5,000 times per paper, and the monthly downloads of the journal was as high as 34,271 times. According to Google Scholar data, the total number of citations is 153, leading to an impact factor of 3.06.