EBE Journal
Energy and Built Environment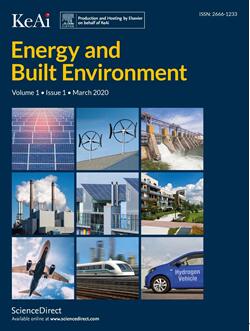 Energy and Built Environment (EBE) is an international journal that disseminates original research articles on energy harvesting and utilization in the built environment. The aim is to present new research results that are focused on promoting energy efficiency, clean energy utilization, and environment quality in the built environment, which constitutes buildings and transportation.
We encourage submissions in the following areas
l Energy conservation and balances in built environment
l Energy storage technologies and their applications to the built environment
l The application and integration of renewable energy technologies in built environment
l The evaluation and control of indoor environment quality (acoustic, visual, thermal and air quality)
l The impact of climate change on built environment performance
l Modelling and prediction technologies for built environment
Every peer-reviewed research article appearing in this journal will be published open access. This means that the article is universally and freely accessible via the internet in perpetuity, in an easily readable format immediately after publication. The author does not have any publication charges for open access. Southwest Jiaotong University will pay to make the article open access.
Please visit https://www.editorialmanager.com/enbenv/Default.aspx to submit your articles.